Date
Dec 09 2023
Expired!
Difficult Airway Workshop at Chennai | Be an expert in just 8 Hrs
BLS ACLS PALS schedule in Chennai Tamilnadu
BLS ACLS PALS schedule in Chennai Tamilnadu.
Difficult Airway Workshop offer the participants a simulation-based hands-on training on how to manage a patient with a difficulty airway. Airway management may not be simple in every case. Each airway is different and adequate assessment and proper management skills are essential to secure an advanced airway. A failure can lead to a loss of life and it can impact your reputation and can disturb you emotionally. In an emergency, decisions will have to be taken rapidly, and it needs experience.
---
Agenda
Training on LMA and Combitube
If you are not having advanced airway equipment ready or if you are not trained in using them, you should rather use alternative airway devices such as Laryngeal mask airway(LMA) & Combitube. These can help you buy time till an advanced airway can be arranged or till the victim is transferred to a better facility. The alternative airway devices are also covered in the basic airway workshop (4hr course)
You'll be trained on the following aspects
When to choose them
How to insert them
How to secure them
Different ports in them and their uses
---
FT-LMA
FT-LMA
This is similar to the LMA but it's port is big enough to allow inserting an endotracheal tube through it – Fastrach Intubating Laryngeal Mask Airway (FT-LMA). The image shows a small inflatable lever within the LMSA which helps move the epiglottis out of the way upwards upon inflating the LMA. The steel handle can help you during the procedure to hold it in place. This device can help intubation very easy to the untrained staff.
---
Fibreoptic Video Laryngoscopy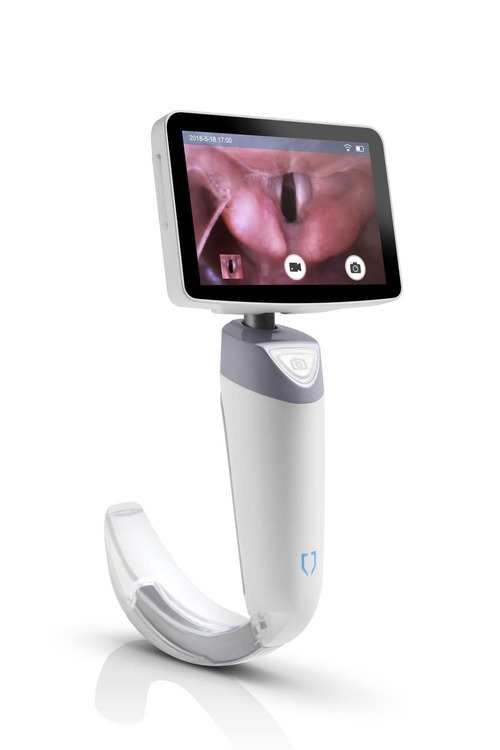 Video laryngoscope
A normal laryngoscope will need you to position yourself in an uncomfortable posture, where as a video laryngoscope will eliminate that issue. The screen on the scope will help you intubate with less effort and improve your chances of intubation. We recommend gaining expertise using a normal laryngoscope as it is found everywhere, but if that is challenging, use a video laryngoscope. Make sure you keep the batteries fully powered.
Image courtesy : Medical expo VS10 series scope
---
Cricothyrotomy.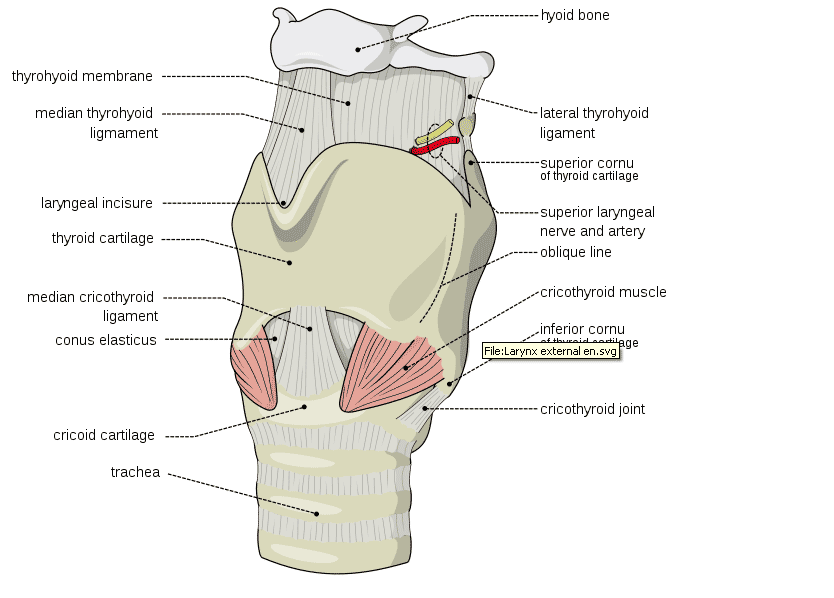 Cricothyrotomy
In an emergency, if all your attempts to intubate the patent fail, one needs to go ahead with a surgical airway. We should be ready with a surgical airway kit. The kit and it's usage will be an important aspect of difficult airway workshop. You'll be taught on how to locate the incision landmark and how to perform the procedure when the need arises. You need to read more about the complications that can arise during and after the procedure and how to deal with them as you prepare to do the procedure in your practice. If in doubt, an ENT surgeon is helpful in such cases.
Image courtesy: By Olek Remesz (wiki-pl: Orem, commons: Orem) – Larynx external en.svg, CC BY-SA 3.0, https://commons.wikimedia.org/w/index.php?curid=5644713
---
Course fee
Total course fee for Difficult Airway Workshop – ₹ 4200 (Subject to change – Pay 10% online and book a place)
How to register
1. Click on "Dates and Registration" link above choose the difficult airway workshop preferred dates and add to cart.
2. Upon booking, you will get a call from the organizer within 24 Hrs (working days only).
3. The amount you are paying is for reserving a place only. Rest of the amount shall be collected by the organizer.
4. Refunds will be provided in case we cannot get you a place or the organizer cancels/postpones the event. No refunds if you fail to attend.
5. Event organizers are responsible for cancellations, not MedCourse.
6. If the registrations are fewer than 4, the workshop may be postponed/canceled.
---
---
---
---