Speaker
AHA Instructor

Authorized speaker
AAP NRP training at Bangalore BRAMC Best in 2021
Neonatal Resuscitation Program at Bangalore NRP. (Online plus Hands-on sessions included)
The Neonatal Resuscitation Program was developed by the American Heart Association and the American Academy of Pediatrics to teach an evidence-based approach to newborn care.
The NRP Provider Course introduces the concepts and basic skills of neonatal resuscitation. It is designed for health care professionals involved in any aspect of neonatal resuscitation, including physicians, nurses, advanced practice nurses, nurse midwives, licensed midwives, respiratory care practitioners, and other health care professionals who provide direct care during neonatal resuscitation.
How to register
1. Click on "Register" button (On the side on desktop and at the bottom on mobile) and choose a date + Course and add to cart.
2. Upon booking for AHA PALS training at Bangalore, you will get a call from the organizer within 24 Hrs (working days only).
3. The amount you are paying (~10%) is for reserving a place only. Rest of the amount shall be collected by the organizer.
4. In 3 day schedule, 1st day is for BLS and next 2 days for ACLS. If the schedule is only 1 day, that means only BLS is happening.
Refunds / Cancellation

1. Refunds will be provided in case we cannot get you a place or the course is cancelled / postponed and the new dates are not suitable to you. No refunds if you fail to attend.
2. Course organizers are responsible for cancellations, not MedCourse.
3. If the registrations are fewer than 4, the workshop may be postponed/canceled. (Rare but possible)
---
Contents of NRP
Lesson 1. Foundations of Neonatal Resuscitation
Lesson 2. Preparing for Resuscitation
Lesson 3. Initial Steps of Newborn Care
Lesson 4. Positive-Pressure Ventilation
Lesson 5. Alternative Airways: Endotracheal Tubes and Laryngeal Masks
Lesson 6. Chest Compressions
Lesson 7. Medications
Lesson 8. Post-resuscitation Care
Lesson 9. Resuscitation and Stabilization of Babies Born Preterm
Lesson 10. Special Considerations
Lesson 11. Ethics and Care at the End of Life
The course will discuss the Neonatal Resuscitation 2020 American Heart Association Guidelines Updates.
It'll be conducted in 2 sessions – 1st is online session (Part 1) which needs to be completed before coming to Hands on session (Part 2)
Illustrative Images of Neonatal resuscitation program at Bangalore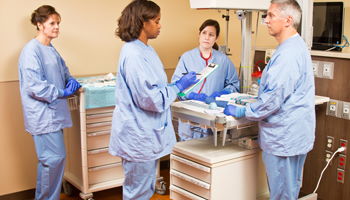 TAKE-HOME MESSAGES
Newborn resuscitation requires anticipation and preparation by providers who train individually and as teams.
Most newly born infants do not require immediate cord clamping or resuscitation and can be evaluated and monitored during skin-to-skin contact with their mothers after birth.
Inflation and ventilation of the lungs are the priority in newly born infants who need support after birth.
A rise in heart rate is the most important indicator of effective ventilation and response to resuscitative interventions.
Pulse oximetry is used to guide oxygen therapy and meet oxygen saturation goals.
Chest compressions are provided if there is a poor heart rate response to ventilation after appropriate ventilation corrective steps, which preferably include endotracheal intubation.
The heart rate response to chest compressions and medications should be monitored electrocardiographically.
If the response to chest compressions is poor, it may be reasonable to provide epinephrine, preferably via the intravenous route.
Failure to respond to epinephrine in a newborn with history or examination consistent with blood loss may require volume expansion.
If all these steps of resuscitation are effectively completed and there is no heart rate response by 20 minutes, redirection of care should be discussed with the team and family.
Source for take-home messages: aappublications
After booking a course
After booking for AAP NRP training at Bangalore, you'll need to prepare well to enhance your learning. A good theory knowledge will allow you to spend more time in learning practical skills at the skill lab. You should collect the study material at least 1 week before to prepare well. The course coordinator will help you procure those manuals.
---
Related medical workshops
Now that you have found AAP NRP training at Bangalore, how about some related medical workshops?
More workshops in Karnataka
If you would like to know more about AAP NRP training at Bangalore, use the Whatsapp chat button found on top and bottom of this page.
---