If you have recently finished your American heart association course training and wondering where to / how to download AHA certificates, read on. We will show you how to download your AHA certificate or eCard as pdf. This works for all AHA certifications like BLS ACLS PALS courses.
Easy method
Step 1 – Download it from ATLAS
Visit the new ATLAS portal from the American heart association and Sign into the Dashboard.
On the Dashboard section. You will find "Proof of completion" column which will list your certificates (eCards).
If you don't see eCard button, ask your training center instructor to process the eCard. Some centres take more time to process than others.
Claim the eCard by clicking on eCard button to download a pocket sized or A4 sized certificate. Now you know How to download AHA certificates. This works for all AHA certificates (eCards) like
Now let's see How to login on ATLAS.
Step 2 – Login to the ATLAS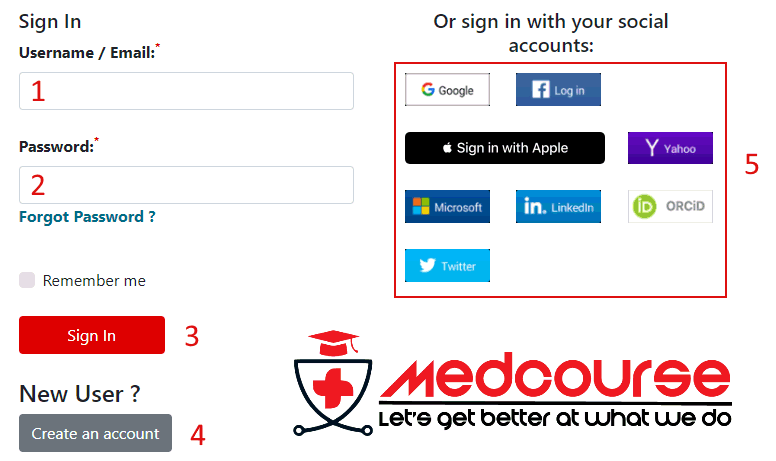 The login flow on ATLAS.
If you are on a mobile, click the menu button (Hamburger icon on top right as shown in the STEP 1 image) to visit login page.
If you already have an account, Enter credentials and login. You may use social account login (labeled 5) if that's the same email ID you gave to the instructor.
If you have created an account for ACLS or PALS pre-course self-assessment, you must be having an account already. If in doubt, click forgot password. If there's an account tied to your email ID, you will receive a link for password recovery.
If you don't have an account, Click "Create new account" (labeled 3) and use the same email ID you gave to the AHA training center. The training center will allocate your certificate to the same email ID.
Previous method
This method still works but we suggest you use the method given above as that is much easier and updated method.
Step 1 – Visit AHA eCards portal
Upon completion of the course, your ITC (AHA international training center) will process your certificate (timing varies between centers but most of them do it within 48hrs, some do it the same day), so that you can check and download AHA certificates any time within the validity of that card – 2 years from date of attending/ passing the course.
Your training center will give you an eCard code. Copy it and visit the eCard website by clicking the button below.
Step 2 – Enter your code
Enter the eCard number on the last column or enter your exact details (name / email) to find your eCard and click on Search. If the data entered by you matches with a card that is already processed by your training center, it'll ask you to setup a security question and answer. If the data does not match, it'll give the following error.
No eCard found. Please contact your Training Center.

This means, you have entered wrong data or your training center has not processed your eCard yet. Get in touch with your trainer.
If the data matches with an eCard, you'll see the following screen. The first 3 columns and the Training center data is Autopopulated (Not editable). If you see any errors in name, contact your trainer before claiming the eCard. Just choose one of the following questions and enter an answer. (Note it down somewhere as it's case sensitive. Meaning, PassWord and password are not the same)
Step 3 – Claim your eCard
Step 4 – Download certificate
On the next page, you can choose to download the eCard. You have 2 options available – a full size eCard that looks like a regular certificate or a pocket sized eCard that can be printed, folded to make it look like an ID card to carry it in the wallet. You may send it to your employer if they ask for one.
Check authenticity of AHA certificate
How to check the authenticity of an eCard sent to you?
If you are an employer and you have received an eCard from someone, you can go to the same webpage linked above and click on 2nd tab "EMPLOYER" (See the 1st image on this page). Enter the code and verify the eCard. You can enter up to 20 codes in one go (Enter one code per line).
Now that you have learnt How to download AHA certificates / eCards, how about getting trained in some other medical courses or renew the AHA certification?
Visit the "Upcoming medical workshops" page to get started.