Advanced cardiac life support from American heart association can change the way you resuscitate. ACLS Precourse self-assessment for 2020 / 2021 updates include online video lessons which can be watched even before you enter the course classroom. The videos are part of ACLS precourse work which can be completed only after finishing ACLS precourse self assessment. Follow along this pictorial guide to know more. It is mandatory for you to finish this course online before attending the physical class.
If you are not enrolled in the training program already, you may check the upcoming AHA workshops and book one (Listing Indian cities only for now).
Once enrolled into an AHA ACLS program, you need to finish a few things before coming for the session which will ease your learning and prepare you on what to expect on the course day. The ACLS Precourse self-assessment and ACLS precourse work is mandatory.
Collect the materials
Collect your manuals (books or eBooks) and start reading. You must score at least 84% to pass ACLS theory part of the exam (conducted at the end of the course, on day 2 of the ACLS course). As per AHA rules, every student must be given an original ACLS manual as a physical copy or an eBook (as per Training center's policy. Most of them provide eBook version as physical copies are not yet widely available)
ACLS PreCourse self-assessment
The ACLS Precourse self-assessment takes approximately 4 hours online. You can take breaks and finish the next day if you want.
ACLS Precourse Self-Assessment is an online tool that evaluates a student's knowledge before the course to evaluate their proficiency and determine the need for additional review and practice in 3 sections: rhythm recognition, pharmacology, and practical application. The student must complete the Precourse Self-Assessment and achieve a score of at least 70% before taking the ACLS Course (Do not worry about scoring less. This can be attempted multiple times and you can exit anytime and resume later till you achieve the required score). The student must print their successful completion certificate and bring it with them to class or download the PDF and get it on a phone.
Check the image below for guidance. It'll ask you to login (1->2->3) or create an account (4). Do it and access (This is not the same account as Medcourse login, it's a different account that needs to be created). You can also login via social accounts(5) for easy sign-up. Click the link above to understand more).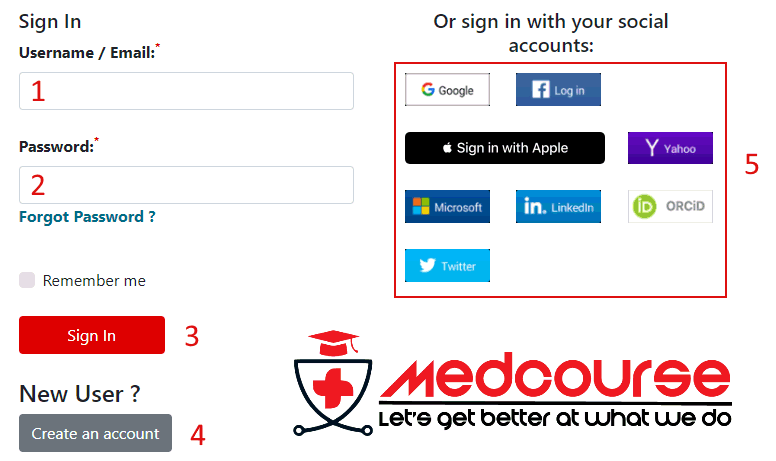 Download the certificate
Once you have logged in, click on Start (seen at the area marked 1 in the image below). If you are coming back after taking a break, it'll display Resume in that place.

Once you complete the assessment, the status will show as "completed" instead of "in progress" and Action should display as "Review" in case you want to review the assessment again. But the certificate button won't be active immediately. Click on survey (Marked 2 on image) and give a feedback on what you think about the experience you had. After you finish the survey, the certificate button (Marked 3 on image) will become red. Click it to download and produce it to your trainer later, on the course day. We recommend going ahead with Precourse work as outlined below.
ACLS PreCourse work
ACLS Precourse Work is accessible only after you finish Self-Assessment (Marked as 4 on image above). It involves a student reviewing course content through online videos before entering the classroom. The video lessons cover multiple medical aspects and each lesson includes questions to engage the student. This precourse work allows more classroom time for hands-on skills training and leads to the student being better prepared to participate as soon as they enter the classroom. This will take about 4hours to finish. Click the button below to access the page.
Plan the commute
Make sure you know the venue / address details –> Reach the venue on time. If it's not the same city you reside at, better to choose a stay that is closer to the training location. Reaching late to a professional training doesn't give a good impression and you may be asked to come back at a later date.
After finishing the course
Finish the course and read "How to download AHA certificate" to know how to find your certificate. Some trainers update the certificate immediately and some take some time to update in the system. Talk to your trainer if you need the certification immediately.
Hope this helps you complete the ACLS precourse self-assessment and ACLS precourse work with ease.